If you're here, you are probably looking for a fun way to involve your kids in the next Father's Day celebration. We will let you in on a little secret: there is nothing a dad loves more than a heartfelt card made from scratch.
Crafting should be both easy and fun. From puns to colored handprints, these handmade father's day cards for kids let your inner child loose too. Have fun with it and create memories that will last a lifetime for your family. Browse our top picks for handmade Father's Day cards and children's outfits, so your kids can make a cute envelope delivery to dad.
When is fathers day in 2022?
Father's day is on Sunday, June 19th. With just under a week, these father day cards for kids leave plenty of time for arts and crafts to create the perfect gift for dad.
DIY Card Picks
Here are our top picks for father's day card ideas that are handmade:
You are Out of this World card
Stay Cool Dad card
Gold Medal for Papa
Handprint Monkey card
Heart-Warming Handprint card
Materials for simple Father's Day cards
While some of these cards may require special materials (like a Milky Way candy bar), most materials can be found at home. Here are everyday items that go a long way in saying, "I Love You, Dad."
-Cardstock Papers
-Markers (get a lot of colors!)
-Washable Paint
-Paper Scissors
-Tape
Fun Father's Day Cards for Kids
You are out of this world card: What better way to make Dad feel proud to be a father than with this cute little card. It takes only minutes to make, and it can be a fun activity for your kiddo to "blast off" their creativity.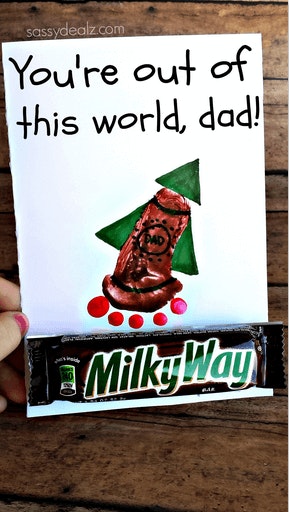 Photo by Michelle on Crafty Morning
To make this, all you need to do is paint your child's foot with brown or red paint to make the rocket's body. Have them press their foot against the cardstock paper, and then the two of you can paint the wings and other features. You can go as crazy as you want with the design!
When you are done, it will be time for you to tape Dad's favorite candy bar to the bottom of the card. Remember to finish by using a black marker to write 'YOU ARE OUT OF THIS WORLD, DAD!'
Voila! It's ready.
Stay Cool, Dad: Remind Dad just how cool he is with this fun Father's Day card. Not only will your child have fun making it, but they'll also appreciate the leftover treats :)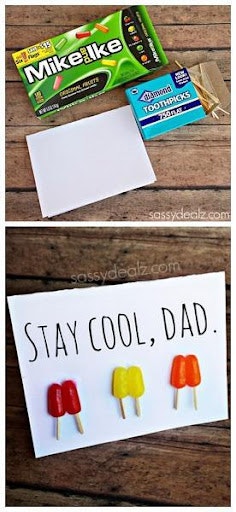 Photo by Michelle on Crafty Morning
For this one, you will need a pack of Mike and Ikes. Luckily, they go for about $1 at the local store, so you don't need to blow your budget! Find the same-colored candies and stick the toothpicks through their bottom. Now all you need to do is finish it off by writing whatever you want on top. It could even be "Stay Cool, Papa."
Gold Medal for Papa: We think this is the perfect father's day card for kids to make. The creativity is great, dad will love it too!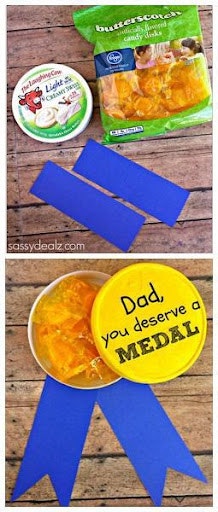 Photo by Michelle on Crafty Morning
An empty round container would be perfect for making a fun Olympic gold medal for Dad. Why? Because he is the best of course! Cut ribbon or construction paper for the accents and throw in some of dad's favorite treats for his sweet tooth.
Handprint Monkey Card: We are sure he'll be hanging this cute little monkey on the fridge.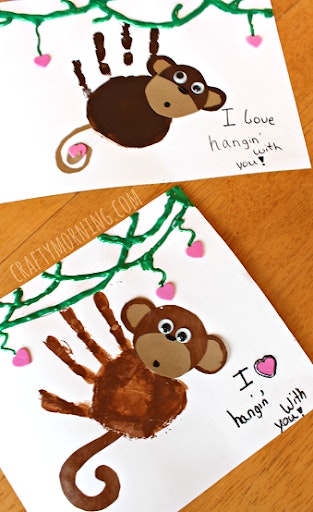 Photo by Michelle on Crafty Morning
This cute card only needs a handprint and some creativity to make. If you don't have googly eyes, no worries. A marker and a little bit of artistry are all you need. Don't forget the best part about it, the message 'I love hangin' with you, Dad!'
Heart-Warming Handprint Card: Make his heart melt with this simple handprint card.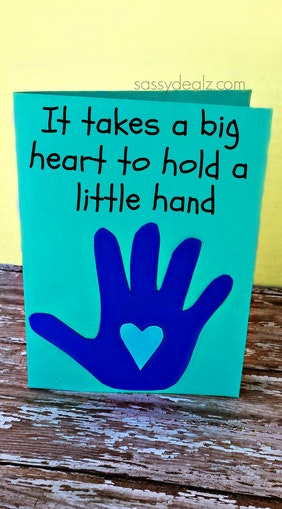 Photo by Michelle on Crafty Morning
This is probably one of the easier ones to make on this list. Trace your child's hand to create this touching card for Dad. You can encourage your kid to write whatever comes to their mind on top of the card; we are sure Dad will appreciate it either way.
Kids Outfits for Father's Day
When presenting Dad his gift and card, you definitely need to be dressed for the part! We've picked out some dress-to-impress outfits for your kiddos to add a special touch for Dad's big day! Everyone will look delightfully dapper for your family memory book!
This ultra-soft, lightweight romper is perfect for Father's Day family pictures, perfect for staying cool and comfortable during the hot summer months.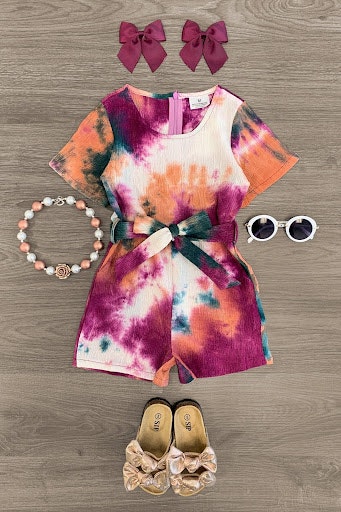 Navy blue & yellow dinosaur print adds the touch of colors and patterns needed to brighten up dad's special day.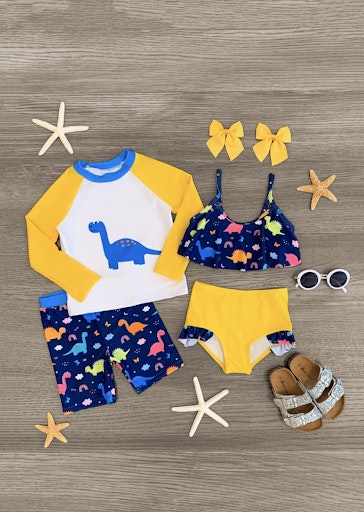 This daisy design is perfect for styling it on Father's Day and the entire blue skies and sunshine-filled summer.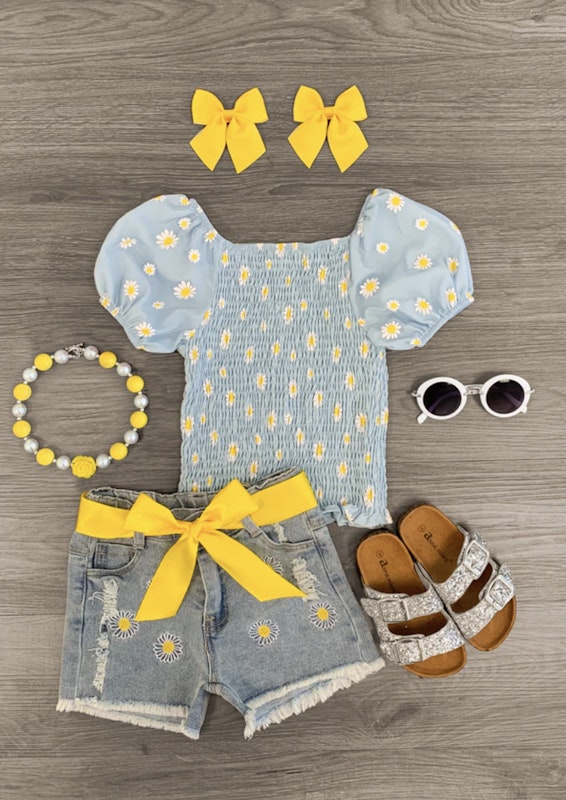 Twinning is winning, especially when multiplied by the entire family! These "USA" shirts are perfect for Fathers Day, the 4th of July, or any day in between.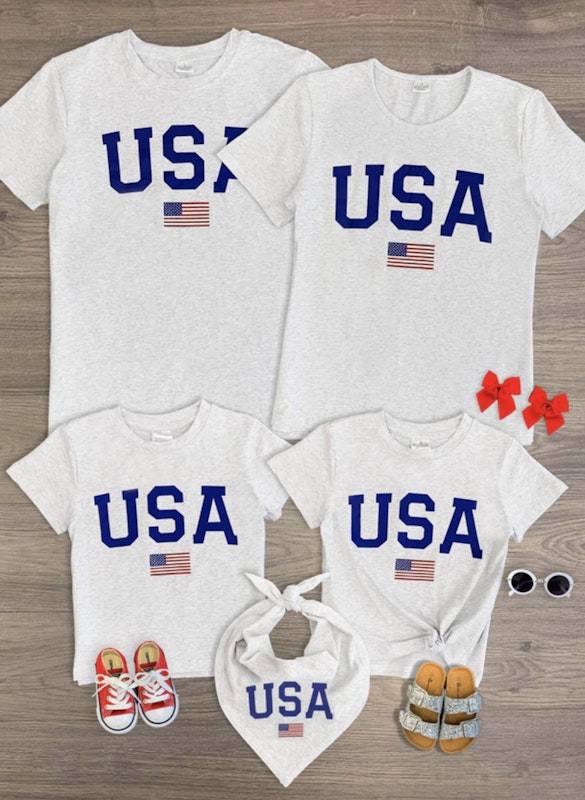 This top looks adorable paired with the matching denim shorts. What dad wouldn't love to be seen with his spunky daughter!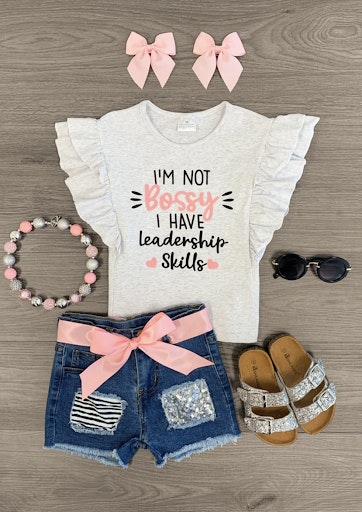 This top looks adorable paired with the matching denim shorts. What dad wouldn't love to be seen with his spunky daughter!
If you love these, you can check out more ideas here.
Have fun making Father's Day cards with your kids!
Most of these cards are easy cards for even preschoolers to make, so the whole family can have fun with it. You can make as many of them as you want, too!
If you need more creative ideas, check out our collection here.